Skate Warehouse Electronic Gift Cards
The perfect gift for any skater. Your dollars will go much further at Skate Warehouse because we guarantee the lowest price. Simple and convenient to order. Gift cards are emailed to the reipient and usually received within 24 hours.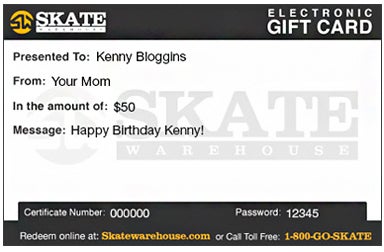 send gift card by email
Ordering an Electronic Gift Card
Electronic gift cards will be sent to recipient's email address.
You may purchase any amount greater than $10.
You may only purchase one gift card per order.
Electronic gift cards do not expire.
redeeming a gift card
Redeeming an Electronic Gift Card
Enter your gift card number and 7 character password.
Select "REDEEM OR CHECK BALANCE" to add your gift card and corresponding available credit to order. Continue shopping or proceed to check out.
If you are checking available credit only and do not wish to purchase any product at this time please remove gift card product from cart.